Trail Trippin to North Hills Trail at Diamond Valley Lake
By Sherli Leonard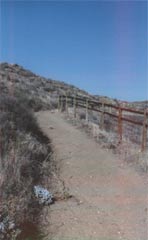 The idea of riding a new trail around a newly constructed lake near barren hills does not lure me to load up Ronda and trailer an hour away, but duty called (as in dead-line for an article) and I.talked my riding buddy, Tracey, into heading to North Hills Trail at Diamond Valley Lake south of Hemet. In the process, we discovered an amazingly delightful adventure.
No matter which direction you come from, you will be utterly discouraged and disheartened by the gross buildup of subdivisions with houses stacked together like containers on freighters on land once wide open to the sky. Never mind, persist, and drive through to Highway 79 (Winchester Road) and Construction Road to find the trailhead to North Hills Trail.
Through the yellow gates, you will find the Taj Mahal of staging areas. More than 50 individual and separated pull-throughs, each with two well-designed tie rails, provide a safe place for rigs, horses, and riders. The area also features separate picnic areas with several tables, fenced off from the horses, portable toilets, at least one water spigot, and large trash cans for manure. I've never seen any equine staging area designed with this much thought - more than a little bit of overkill.
When we rode in the winter, the sky was clear, the temperature about 68, and winds non-existent. It couldn't have been better, which was a good thing: the entire trail is completely exposed and a blistering summer sun will boil blood of both horse and rider. Definitely save this trail travel for the late autumn, winter, or spring.
I've also never seen trails so well-marked with useful and clear signage. At the trailhead, on the north end of the staging area, a large sign spells out the rules, and an iron ranger asks for $5 per person. The sign gives a warning about the "difficult trail" with "steep segments" and "loose footing." Fortunately, we neglected to read the sign as we passed, and proceeded in ignorant bliss.
For the first mile and a half, the trail travels alongside an aqueduct - not terribly exciting, but safe and easy. But first, you must ride on a narrow concrete bridge to cross the aqueduct. The entrance to the bridge is not immediately apparent; head for the gap between concrete abutments and make an immediate left turn. It will be obvious by then, but watch for the concrete apron on the other side - probably the most dangerous footing on the entire trail.
As our horses moseyed along the wide trail, we observed myriad varieties of birds; we were riding through the 13,000 acre Southwestern Riverside County Multi-Species Reserve. Even though cars cruised along Domenigoni Parkway less than a half mile away, it appeared that wildlife was thriving along this trail.
The trail crosses another wider bridge, and good signs direct riders to a double track trail that skirts the foot of the hills on the north side of Diamond Valley Lake. Pleasant and easy, the trail goes for another mile - half-mile markers are posted to keep riders aware of their time and distance - to a rest area with picnic tables, restrooms, and two ridiculously unstable tie rails. At only 2.5 miles into the ride, we hardly needed a rest, so we moved on at our blistering pace of three mph.
The trail, still double-wide, headed into the hills and introduced us to the first of a few steep climbs - steep, but not difficult; the kind of "steep" that requires a short blow at the conclusion.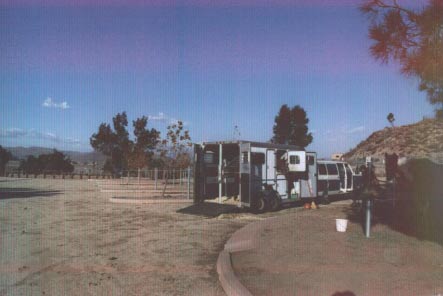 Along side this climb, the concrete ruins of a magnetite mine provide interest and stimulate the curious minds. (I know what the ruins are only because the handy trail map I picked up at the guard shack has a picture and caption.)
The trail climbs high into the hills, with a steep drop-off on one side. Don't look down if you're acrophobic.
At the 3.6 mile point, the trail reaches the lake overlook. Bordered by a fence, the overlook lets rider (and horse, if it's interested) look upon the new Diamond Valley Lake, a Metropolitan Water District facility created to bring more water to the millions of Southern Californians. Supposedly, the lake will eventually be surrounded with vegetation, but at this time, it was bordered by only sage and coastal scrub.
We proceeded up the trail, which is bordered for a few hundred feet by an attractive wooden fence on the drop-off side, presumably to keep riders from plummeting down the steep slope into the lake a few hundred feet below. We kept going for another half mile, until we reached the highest point of the trail. Here, the trail narrows somewhat; although it is still plenty wide, the sheer drop-off demands you have a solid horse. After the concrete apron at the end of the first bridge, this is the most dangerous part of the trail, especially considering the trail is shared by hikers and an occasional (illegal) bicyclist.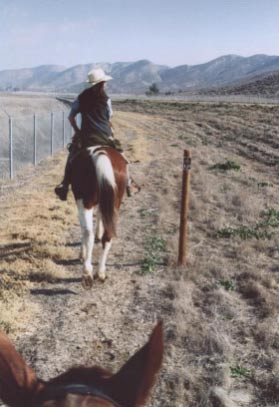 At the top of the trail, we found a large pad cut into the hill top, complete with picnic table. If you want to hold your horse (since there is no tie rail), you could picnic here, too.
According to the map, the trail goes for another 1.5 miles to reach the east trailhead. We opted to turn around here, probably the four-mile point. We'll make the entire trail some day when we start out a little earlier.
On the return trip, which the horses traveled at a considerably quicker rate, we noticed huge dust clouds billowing up about 10 miles away to the west. By the time we reached the trailer, the wind had reached us. Good fortune entitled us to a beautiful ride on a well-made, carefully-designed trail through interesting terrain. I believe we'll go back.
Terrain : Hills, ridges, and flats; double-track trails for riders and hikers only; smooth and secure footing.
Difficulty : Rider: Beginners should be very safe; Horse: intermediate and beyond, solid and spook-resistant.
Facilities : Staging area built especially for equestrians at the west end of the trail; portable toilet, water, manure cans, picnic tables, some shade, tie rails.
Cost : Five dollars per rider.
Operating times : Open all year, dawn to dusk; trails closed during and following rain.
Directions : From I-15 in Temecula, take Highway 79 (Winchester Road) north to Construction Road; turn right to the guard shack, and follow the directions. From I-15 in Sun City, take Highway 74 east to Winchester Road, turn right to Construction Road, turn left to guard shack. From I-10 in Beaumont area, take Highway 79 south to Hemet, turn right on Highway 74 (Florida), turn left on Winchester Road, turn left on Construction Road to the guard shack.
Information: (877) 385-5253; www.dvlake.com .
---
---
Riding: The Allure, The Passion, The Obsession



Horses and riding have always allured me, and the intellectual side of myself has, from time to time, tried to figure out — Why? What calls my Soul to horses? Why is it that nothing else will quite do? Join me on my quest to discover what it is, and why, us horse people must ride.


California: Pacific Crest Trail, off Liebre Mountain — Springtime, 2002. Buckeyes are just beginning to pop with small brilliant lime-green 'palm trees' bursting out at the end of the branches. The tree we pass now is overgrown and grabbing for my face; I duck hurriedly and just miss it. Now we glide past gooseberries with stalks of shiny green leaves and delicate red florets. Now more buckeyes. Now a grove of clustered, densely-packed oaks with textured gray bark and bluish leaves. This is one of my favorite places, a steep incline at the Northern reaches of the Angeles National forest, above the vast Mojave Desert and the great Tejon Ranch. Time stands still on this edge of forest rim, except for the constant changing drama of the seasons..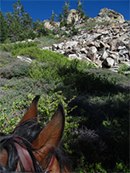 Now, we approach the 'digger pine' forest — eerie enough to also be known as 'ghost pine' — so thickly wooded you'd think someone had planted it. But nature herself did, decades ago, when the first football-sized, sap-laden cone scattered its seed and took root here. Usually solitary sentinels on a north-facing ravine, this grove is most unusual. The lighting changes under the labyrinth of the trees, filtering through millions of dainty six-inch long gray-green needles, and creates an atmosphere unique to digger pines alone. I glimpse inside a small level opening in the midst of the grove where a picnic table slumps, wooden benches warping. And I remember the times we've dismounted and eaten a snack here . . . We ride our fit horses at endurance pace — fast — not because we prod them — but because they want to. We float through the towering overgrowth, as in a tunnel, following the ever-climbing path upwards. Browned needles carpet the undercover and further dampen the light. The wind is quiet here with the cover of the trees, and we race toward the arch-shaped opening at the end of the wood, bursting out into a long, slightly uphill straight-away.
We really fly now, dodging stray ceanothus branches and suddenly smelling a strong scent of sagebrush. Up, up, up we venture, horses sweating and breathing harder as we hit the steeper section of trail. "Branch!" I manage to shout back, as I push aside and dodge another one. "Thanks!" I barely hear in muffled, groaning reply. As we approach a six-inch wide rain rut in the climbing narrow trail, I become aware of the precision of Starboy's hooves: wide black blurs flying out in front of me. Mechanically, perfectly, he straddles the rut, deepened from winter's runoff. His nose inclines toward the earth, nostrils flaring, deftly picking his steps. I hear Fanta behind me, wheezing, surging in Rick's hands, pulling at her bit. Wanting to burst past us, to show how much better and faster she could take this stretch . . .
Finally, we come out to the brief level straight-away at the top of the long climb. I catch a quick glance of what remains of my favorite old, gutted-out, Valley Oak tree. The bark is gone, exposing the gnarly and swirled, marble-like underwood. Its great trunk stands, perhaps thirty feet tall, the top long ago severed by snow, or wind, or lightening. Although we fly past it at a gallop today, I remember the time when I stopped to marvel at it. I took my mental picture that day, and decided it was grand. I see this picture now, and smile, as we whirl past; a quick mental wink.

Starboy Mane Flowing All this makes up a ride. The adrenaline flowing between horse and rider, the beauty of the horses and their movement, the changing textures and beauty of Nature. And the newness of each ride dwells along side the old. One ride juxtaposes itself upon the next in a matrix of memories, creating a rich history. Sometimes I find myself re-living a section of trail from a long-ago ride I thought I had forgotten. Lying in my bed, somewhere between sleep and awake, a vivid tape replays itself — and I see the trees again, see the winding contour of the trail, feel again the surge of the horse, and the excitement of the moment. Starboy on Pinos
Like Woodside in '85 riding with my new friend, Terry, and her Morgan mare, Velvet, when I was first introduced to the concept of "endurance riding". I had always preferred the freedom of riding trails to the confines of riding circles in an arena, which made me stand out from the other girls at Cory Walkey's English Riding Academy in the Pacific Palisades. My cheap western saddle and scrapping roan gelding, aptly named Rebel, separated me from the English jumping clique. I lived for Rebel throughout my tentative junior high and high school years — long arduous solo rides throughout the Santa Monica Mountains being my special favorite. I had no definition for what I did until I met Terry. "Endurance riding." I liked the sound of that. When I met her, Terry was conditioning for the grueling 100-mile Tevis ride in the Sierra Nevada Mountains. She had selected Velvet from an endless pasture of horses at an aunt's ranch somewhere, for the virtue of the mare's large, ground-covering trot. (My Appaloosa mare, Fanta, whom I had bought several years after Rebel, had to canter to keep up with that trot!)
So, some years back, I found myself in that state between sleep and consciousness, when the clearest recollection of my first big ride with Terry, out of nowhere, flashed back full-bore. Like a dream, the ride returned to me. There I was, riding Fanta, trotting down the east side of the mountain trail from Skyline to the bottom, in Woodside. Since then I can re-live that same ride at will, as I have, numerous times throughout the years. First, there was the certain little winding section of trail, and the chatting, and the laughter. The tall redwood trees creating a canopy, with smaller growth by the trails edge. The bottom section where we let the horses drink, willow trees in the cool rushing creek. I could hear the water, smell the moist soil and rotting leaves. I saw, also the top section of the trail, when I learned by watching Velvet that a horse can actually hop over a chest-high fallen tree from a standstill, if taught to do so. A graceful athletic thing to watch; a painful, jarring thing to actually do.
And then I flashed on the blossoms of a plum tree in springtime, at the edge of a wonderful old ranch there, on the dirt road where we would ride by. And when the fruit came to ripen in summer, I remembered stopping to feed Fanta plums . . . I didn't dismount, but picked them while still in my saddle. Fanta careened her silken neck and reached over to my hand, with anxious lips, as I stuffed her mouth with the delicious morsels. She slobbered frothy pink plum juice which dribbled onto hands, saddle and pad, as she gorged herself. I whispered sweet nothings to her and rubbed her mane. She spit out the pit and bent back her neck for more . . .

Digging the Ride!
Horses and riding have always allured me, and the intellectual side of myself has, from time to time, tried to figure out, Why.
What calls my soul to horses? Why is it that nothing else will quite do?
In fact, as I write this, I realize that the ride with Terry that day was different.
Not only was it my first big ride endurance conditioning, which opened the doors to the possibility of trotting over endless distances.
And not only was it my first time on the redwood trail that was to become my favorite haunt — the big two-plus hour ride I had always dreamed of when I bought Fanta as a yearling, and had to wait for years until she was ready to finally ride, train, and enjoy.
But I can now recall the conversation we had on the winding stretch of trail that has become so memorable — the subject of the laughter.
We asked ourselves why! Why do we do this? What is it that makes horses and riding so alluring, so all-encompassing to our Souls?
As "horse people" we spend small fortunes keeping our horses. We feed them and nurture them and sacrifice for them.
We become truck drivers and hay haulers and fence builders for them.
We become mothers and medics and slaves to our horses, who munch their hay and carrots and grain contentedly, not seeming to have a clue that we have altered our lives to accommodate them.
Some of us have even lost marriages and friends over them — putting them above all else.
Why? Why? Why?
Terry and I defined it that day, yet it is a definition ever redefining itself.
* We ride for Freedom. The freedom of youthful abandon, heading out and letting the wind direct our path for the day.
* We ride for Nature. Riding puts us in places outdoors we wouldn't get to any other way; the trees, the trails, the wonder of being out in the great wild.
* We ride for our Horses. They love the rides even more than we do, picking up their pace and sniffing the wind, legs flying, experiencing their own form of freedom. Willing companions, partners, Soul mates . . .
* We ride for our Souls. Riding feeds us. It puts smiles on our faces and a lift to our gait. It gives us depth of character and heightened experience our Souls crave.
Riding, the allure. Riding, the passion. Riding, the obsession. The more we ride, the more we have to ride.
"One good ride begets another."
Someday when I'm old, bedridden, feeble-bodied — the rides will be there for me.
Woodside. Malibu. Hawaii. Mt. Pinos. Pacific Crest Trail. Vivid and clear, each bend in the trail. Along with each horse I've loved and trained and mothered.
I had a mantra that got me through junior high school . . .
"I'm always riding Rebel." No matter how lonely it got on the upper patio during lunchtime at University High, I would mentally repeat, "I'm always riding Rebel."
Because the times that mattered most to me were the times I spent with my horse.
Those were the times I used my mental camera.
Those were the times most memorable to me.
I took stock of those times, and they always returned and freed me — and fed my Soul.
For me, riding is my outlet. It is my Passion. I has become me.
Read more articles by Dawn Jenkins


Dawn Jenkins,
Lady Farrier/
Hoof Coach
Phone: 661-703-6283
Copyright 2002, 2014