SoCalEquine.com is Proud to Present These California Equestrian Businesses & Clubs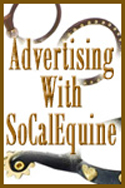 Welcome
Our mission at the Southern California Equestrian Directory is
to help our Equestrian industry continue to grow and thrive.
Viewers can find the products and services located throughout California in one great source right here within the Southern California Equestrian Directory. Our directory is loaded with horse related items, products and service providers located right here in California, which is unmatched. New information is added daily throughout the week. We listen to your suggestions and strive to have an easy to navigate format for viewers to find just what they are looking for.

At SCED, we offer a means for every level of equestrian related business the opportunity to expose their business to a large horse interested viewer base.
Visit our Site Map for the full list from A to Z.
Sara R. Fogan, C.Ht. is a certified hypnotherapist based in Southern California. She graduated with honors from the Hypnosis Motivation Institute in 2005.


Horse show season is well under way, and many riders are devoting hours to training and preparing themselves and their horses for competition. Whether you are new to showing or a seasoned competitor, it is normal to feel nervous or have performance anxiety before you enter the arena. The key to overcoming competition nerves is to transform any negative emotions into positive ones—fear into confidence, tension into relaxation, anxiety into excitement, disappointment into joy, etc.....

Read More......


Horse Lover's Haven Is Now Your Grand Meadow VIP Connection

As a Member of the Grand Meadows VIP Sponsorship Program -This program permits Doreen Letteri to sell and pass on a Huge Savings of 15% off retail.

Grand Meadows is proud and pleased to introduce our new product: Grand Premium Plus. This product represents the culmination of years of evolution in the supplement marketplace and for the first time offers the most comprehensive supplement available at an incredibly affordable price. Grand Premium Plus has been developed to provide maximum support for the joints, hooves, coat, immune system, digestive system and also provides a complete multi-vitamin, mineral and amino acid formula. For the first time horse-owners can have confidence that all potential nutritional deficiencies are being addressed with one product, removing the need for multiple supplements and the associated high costs...

Cheval Insurance Services

What's the difference between a Ranch Package and Homeowners Insurance?

There are several differences in coverage between a Homeowners policy and a Ranch Package of insurance.

Both cover property and liability but the extent to which they will do it differs. Here are some of the most significant differences...

Read More......
TEMECULA: Equestrian trails removed from Wine Country plan

---

BY CASSIE MACDUFF,
THE PRESS-ENTERPRISE

---

Approving the Temecula Valley Wine Country Community Plan without equestrian trails is putting the cart before the horse.

In the works for more than four years, the recently approved plan paves the way for winery expansion, including three-story hotels, two-story restaurants and wine tasting rooms, and more than doubling the number of wineries.

Read More ......