SoCalEquine.com is Proud to Present These California Equestrian Businesses & Clubs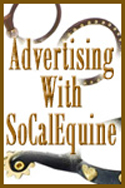 Visit our Site Map for the full list from A to Z.
Greeting Cards that Equestrians will love!



Written by Janine Rosenberger
of Big Sky Inspirations




Introducing Big Sky Inspirations - a new line of striking greeting cards that feature majestic horses, beautiful countryside, dramatic skies and other images of nature. Big Sky Inspirations cards highlight the four spectacular seasons of Southwestern Idaho and other areas around the country. Equestrians will appreciate the extensive variety of cards featuring horses, and persons of faith will value the many inspirational scriptures. With nearly 400 different cards in various categories including Any Occasion, Birthdays, Blank Note cards, Encouragement, Holidays, Pet Sympathy, Thank You, and more, you'll want to explore the wonderful variety of cards from which to choose...

Read More......


Abercrombie Farms
Organic Midwestern Hays

New - Large Selection of Organic Grass & Alfalfa Hays Brought to California via Railway.

Abercrombie Farms of Kansas City, Missouri has brought California horse caretakers a wonderful new selection of, organically grown, grass hays for less than current California prices. The idea was the brainchild of a repeatedly successful, and unsuccessful, entrepreneur who also happens to be a horse lover...

Read More......



Trying to Save Wild Donkeys Starving from the Drought


The extreme California drought is taking its toll on about 250 Wild Donkeys in Reche Canyon, Colton, CA . These donkeys were abandoned by some miners years back and have multiplied and no longer can just live off the land. They are wandering onto private ranches and some ranchers are trying to help but there is NO FOOD and little to NO WATER for them to sustain much longer. We are running into a lot of red tape to get any government agency to help. Because they are wandering onto private land the government won't help. The rescues can't come and get them without mounds of paperwork from a government agency. In the meantime they are STARVING.

We are looking for assistance to feed the donkeys until we can get though all this bureaucracy. We wondered if you would consider donating some feed for the donkeys. We really want to re-home the donkeys ASAP. We need to find ranchers that might want to take some. We need donations. We need advice how to handle BLM and other obstacles. Please contact me with any advice you might have. Thanks for your attention. Janice DeBard 909-338-5335 janice612@yahoo.com

Read More......