by Sara Fogan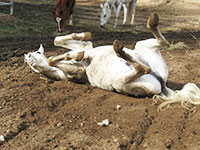 My Arabian/Lipizzan gelding, Avalon's Galahad, enjoys
rolling in the mud after it rains.
Photo by Sara Fogan
Many years ago, I attended a case conference where Hypnosis Motivation Institute instructor Lisa Machenberg described how she helped someone to regard even the negative, inconvenient aspects of car ownership in terms of being a privilege. Apparently this individual was procrastinating about getting new tires for his car because not having a vehicle for one morning would be inconvenient and expensive. His justification for not doing anything to facilitate the repair was: "Hey, the car is still drivable, so what is the rush?"
As most equestrians (and even non-riders) know, riding and owning a horse is .....
Read More......