SoCalEquine.com is Proud to Present These California Equestrian Businesses & Clubs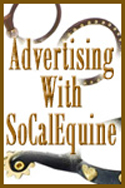 Welcome
Our mission at the Southern California Equestrian Directory is
to help our Equestrian industry continue to grow and thrive.
YOUR Success is Our Success!
Viewers can find the products and services located throughout California in one great source right here within the Southern California Equestrian Directory. Our directory is loaded with horse related items, products and service providers located right here in California, which is unmatched. New information is added daily throughout the week. We listen to your suggestions and strive to have an easy to navigate format for viewers to find just what they are looking for.

At SCED, we offer a means for every level of equestrian related business the opportunity to expose their business to a large horse interested viewer base.
Visit our Site Map for the full list from A to Z.
Sara Fogan
Choosing the Right Horse


"You're not perfect, sport, and let me save you the suspense: this girl you've met, she's not perfect either. But the question is whether or not you're perfect for each other." –Good Will Hunting

I love that quote. Ben Affleck may have been giving romantic advice to Matt Damon in Good Will Hunting, but the insight is also appropriate when you're looking for an equine partner. Once you start "shopping" for a new horse, you need to ask yourself some very important questions about your goals and ideas about your future, "perfect" equine partner...

Read More......


Abercrombie Farms
Organic Midwestern Hays

Large Selection of Organic
Grass & Alfalfa Hays
Brought to California via Railway.

Abercrombie Farms of Kansas City, Missouri has brought California horse caretakers a wonderful new selection of, organically grown, grass hays for less than current California prices. The idea was the brainchild of a repeatedly successful, and unsuccessful, entrepreneur who also happens to be a horse lover...

Read More......