Sponsors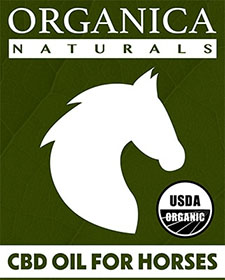 Organica Naturals
CBD Oil for Horses
Straight from the horse's mouth, the Organica Naturals brand is the best CBD oil for horses anywhere!
Your equine companions will love our cannabis — and so will you — because it's grown right here in the USA and certified organic by the USDA. Organica Naturals CBD is made from whole-plant cannabis that's painstakingly harvested by hand and flash-frozen to protect the integrity of the medicines inside. We use subzero extraction to get a virtually perfect phytochemical copy of the plant in every single drop, so your equine beauty gets everything nature intended.
CBD oil for horses from Organica Naturals is bursting with essential cannabinoids, like Cannabinol (CBN), Cannabigerol (CBG), and Cannabichromene (CBC). Cannabinoids work together to boost the effectiveness of our full spectrum horse CBD through a natural phenomenon that scientists call the "entourage effect." The more cannabinoids there are in your horse hemp oil, the better it works.
Best of all, you can rest assured Organica Naturals CBD oil for horses is always 100% free from pesticides, harmful chemicals, and heavy metals. Every batch is manufactured in an FDA-registered, U.S. Hemp Authority Certified and Non-GMO Project verified manufacturing facility and always 100% USDA Organic Certified, of course.

Discover the benefits of Organica Naturals Equine CBD today!

Email: questions@organicanaturals.com
https://www.organicanaturals.com/cbd-oil-for-horses/
Professional Equestrian Contracts ... Bill of Sale, Lease Agreement, Boarding Contract, Training Contract, Liability Release Forms and more!
CowDogSaddles.com ..... Fine Used Western Saddles at! Currently in stock cutting saddles by Leddy, Wendy Allen, Jim Murray and Roo-hide; show saddles by Blue Ribbon, Billy Royal, Kathy's, and McLelland; reining saddles by Bob's, Cleburne, Cumberland and more!
Aynie Polo .....Specializing in Polo & Jumping Equipment & Tack
The Wild Cowboy..... Western Clothing & Decor
Dressage Extensions ..... Your #1 source for top quality tack and riding apparel, featuring items of interest especially for dressage riders and horses of all levels
Portuguese & Spanish Saddles & Tack..... Large selection of English saddles & specialized equipment. Located in Europe
Dover Saddlery ..... English tack & equipment
Riding Warehouse ..... Tack, apparel & gifts for the horse & rider
Winnies Organic Animal Products, LLC ..... A complete line of organic Animal Products. Works like a supplement, Tastes like a treat.
Susans Saddle Stands - Equestrian Art available online.
Dana's Doodles Horse Art - Fun horse art and gifts online!
MyEquineSource.com - Online Horse Sales
Five O'Clock Somewhere - Artisan Jewelry - Equestrian Jewelry
Home And Stable.com - Horse Gift / Decor
Bar F Products- Sales / All Tack
B & H Rope Halters & Equipment Tack Store, Natural Horsemanship Equipment
Cowgirls Untamed Artisan Jewelry & Discounted Western Apparel
Rockin' B Clothing - Custom Show & Rodeo Pageant Apparel Custom tailored show & rodeo pageant clothing - handpainting, embroidery, Swarovski, leather & more!
Place a FREE Business Listing in this Category!