Sponsors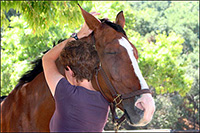 Bernardo Equine Therapy
& Saddle Fitting
Gwen Bernardo, BS and EBW, offers a mobile equine massage and bodywork practice as well as an independent saddle fitting service. Providing customized Swedish, deep tissue, and sports massage along with trigger point release, thermal imaging, and red light therapy. These techniques keep the horse moving freely and performing up to his optimum ability. Let Gwen massage and support damaged muscles, while using body work to help PREVENT stress and injuries before they occur.
Having the saddle you ride in fit your horse correctly is EXTREMELY important to the longevity of his career. First, Gwen uses a Port Lewis ® impression pad to evaluate the saddle's fit. This mold is used in a dynamic environment and provides an impartial view of the saddle's suitability for your horse. Once the saddle has been evaluated, she is able to discuss alternative options if the saddle's fit is not ideal. It is important to note that Gwen is not affiliated with any saddle brand, thus you are guaranteed an unbiased view and a correct solution to your saddle fit issue. Serving Los Angeles, Ventura, Orange, and San Diego Counties (will travel further on an as needed basis).
Cell Phone: 415-505-7337
---
Saddle Fitting Services
David Zimmermann - Stubben Certified Master Saddle Fitter
Saddle Fitting / Clinics
Serving Southern California. 800-550-1110
---
Tracy Allred ~ Natural Horsemanship Coach
Lessons / Training / Saddle Fitting / Nutritional Advice
165 Auriga Avenue, Lompoc, CA 93436. 805-733-3654
---
Duprey Saddle and Tack
Tack & Saddle Repair
1680 W. Mells Ln. , Anaheim, CA 92802. 714-493-7054
---
Art 2 Ride: A Schleese authorized representative.
Saddle Fitting Services
Phone: 858-342-6691
---
Schleese Saddle Fit Technician
Saddle Fitting Services
Los Gatos, CA Phone: 702-539-2895
---
MD Saddle Services
Saddle Fitting Services
Creston, CA Phone: 805-235-5041
---
Tina Hoover Saddle Fitter
Saddle Fitting
Long Beach, CA 90803 Phone: 626-422-7382
---
County Saddlery- Southern/Central California
Saddle fitting and Sales
Westlake Village, CA 91361 Phone: 818-930-8917
---
Equine Sports Massage Therapy and Saddle Fitting
Massage Therapy / Saddle Fitting
Los Angeles/Ventura
info@therapy4horses.com
---
You Can Post a FREE Business Listing Here!