Hello,
I am Don Dyson and have recently patented a system for relieving weights from horses' legs and hooves during long-term rehabs.

I want to rent a horse and a small site to do a 30-second video about this new horse invention, the HGR, which attempts to improve on healing for injuries, such as for broken legs, and diseases, such as horse laminitis. This horse in the short video will experience no lifting at all. Simple and easy.

I will pay $100 for use of the horse, and $100 for the use of the site, or whatever is considered as fair compensation. Also, $25 oer hour for each of two presenters, one of which will be the lead voice for the few words spoken.

If you know if any two horse persons whi might be interested in doing this video, and you wish to participate in any way whatsoever, please contact me and I will give you all of the information that you request.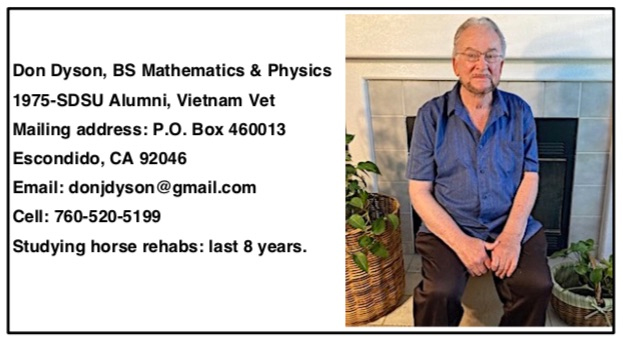 Thanks, Don Dyson
Cell: 760 520 5199
Email: donjdyson@gmail.com
---
Stable - Del dios highway north San Diego, available for Trainer with ESTABLISHED clientele. In/outs, corrals, stalls, fiber footing dressage arena, jumping arena, fiber footing round pen.Dry stall or full service. One bedroom Housing available. 760 233-2135
230406
---
Ranch Space available on private ranch with special care and amenities in East Rancho Santa fe for professional established trainer with clients.NON flooding fiber footing Dressage arena with mirrors,jumping arena suitable for smaller jumping, fiber footing round pen,stalls,large corrals, grazing pastures, in/outs. Dry stall or full service. call 619 813-4882
230228
---
The International Equestrian Center and Casey Tibbs Western center facilities in the SD estates boast, 6 barns with 9 box stalls/ barn (5 with in and outs, mare motel, and pipe corrals with facilities including a cross country course, track, 4+ lighted multi-use arenas, dressage courts, round pens, and turnouts. Dry stall rates start at $110 Looking for qualified trainers/ boarders 805 669-6761.
230220
---
Beautiful, quiet and private barn looking for trainer with smaller clientele. 3 to 6 horses ideal with room to grow as it becomes available. Clients and horses will be pampered. Located in Vista, on the west side next to San marcos and Carlsbad. Call or text Nicole 760-560-8377
221202
---
Space available for a Therapist/horse therapy program! I have a large facility with some great horses that I use for lessons. I'm reaching out to see if anyone is looking for a space to set up their program. Bring in current clients with your own horses, or we can work together to help you get started. I have over 17 years of professional instruction and horse training under my belt.
Phone: 760 443 3651
Email: tracyfincher@me.com
220906
---
Mountain Meadows is looking for a horsemanship trainer/ riding instructor with lesson horses. Private tack room, grooming area and stalls available.
We have a new development of hundreds of houses close to us and we are getting several inquiries for lessons, leasing and purchasing a horse for their children. MMS is nestled in on 27 acres located at the west end of the San Fernando Valley. Our amenities include a swimming pool, a park area, a recreation room with cable TV and a theater sofa, a waterfall seating area, restroom all located in the main barn area.
We have 2 1/2 arenas all with lights and sprinklers, several turnouts, tack rooms, wash racks, grooming areas, round pen. Thre are hundreds of acres of trails accessible immediately from our facility. We have an awesome view of the San Fernando Valley.

MMS hosts several fun events every year. Our staff is amazing with our horses. They have all been with Mountain Meadows for well over 15 years. They clean the stalls twice a day seven days a week. Very in tune to all of our horses and notice if anything at all is wrong. Our borders are incredible and watch out for each other's horses as if they were their own. It's a great little community.
If anyone is interested or knows anyone who might be interested please email us at mountainmeadowsstables@live.com
Or call 818-371-9812
Thanks everyone and have a great day!
---
---
---
You Can Post a FREE Classified Ad Here!
We Accept: