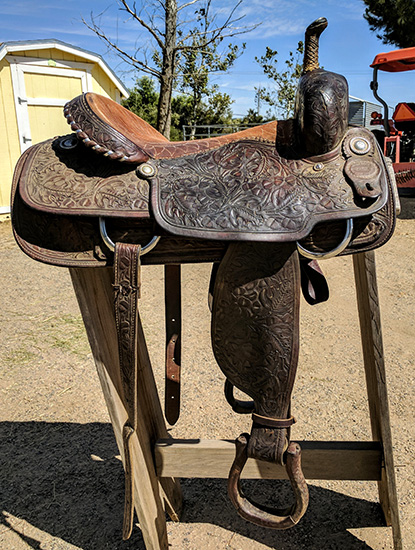 Custom Billy Cook cutter saddle ..
16 inch seat, all in good shape, Simi quarter tree, 7 1/2 "gullet.. approximately 26 pounds. Comfortable to work in ...
Asking $775 .. includes shipping in the USA .
See more images of this saddle at
www.gaitedhorsesrus.com/sales_tack.html
---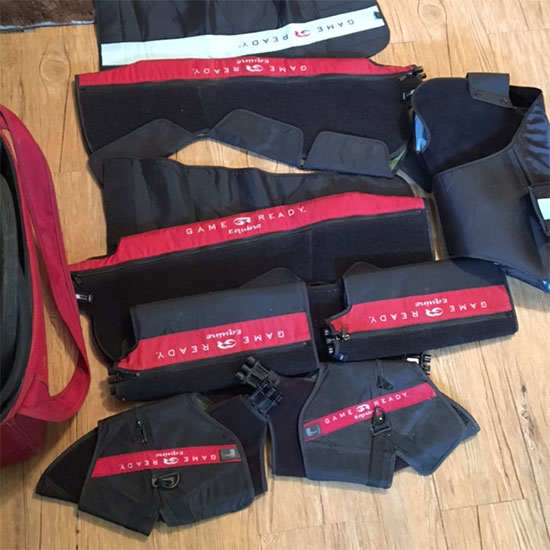 Complete Game Ready System. Includes two hock wraps, two cannon bone wraps and two full leg wraps. It is gently used in very good condition. Retails new for $5000. Great deal at $2000.
Phone: 858-335-8832
Email: angietlr@gmail.com
---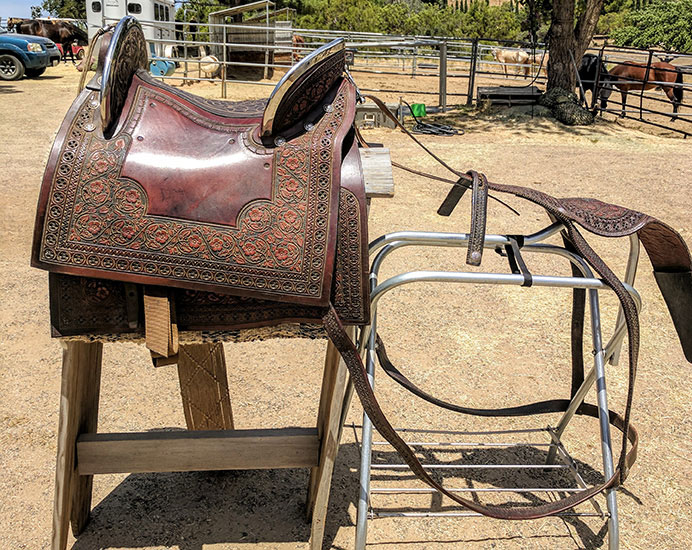 Beautiful and in mint condition .. if you want a excellent set up package for your Pervuian Paso... or just for fun, then you know what your looking at here. It's ready to go and will be sold as a single unit ... The headstall and all head pieces are a rich chocolate brown and used enough to be broke in.

Shipping will be cost to buyer ... Price for everything here is $1,650. 00
See more images of all the equipment included at
www.gaitedhorsesrus.com/sales_tack.html
---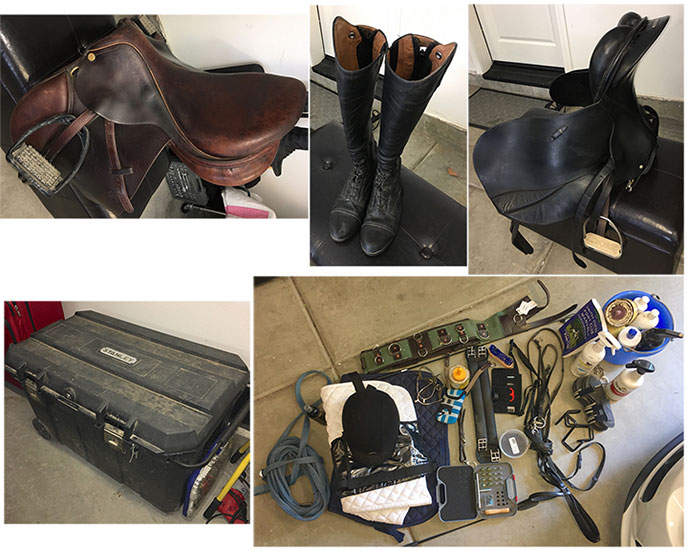 1. Michael Whitaker Jumping Saddle $1,200
2. Passier Dressage Saddle $500
3. Tack Trunk with all the following inside for $500


- Lunge Line
- Charles Owen Helmet size 6 3/4
- Cross Country penny
- White dressage saddle pad (brand new)
- Navy jumping pad
- Stud Kit (brand new)
- Surcingle
- Jumping whip
- Dressage whip
- Roller balls spurs
- Neoprene cell phone holder
- Dressage Girth
- Running martingale attachment
- Brown mane rubber bands
- Braiding kit
- Equi-fit show jumping boots
- 2 traveling bridle racks
- Cobb dressage bridle
- Kimberwicke bit
- Stud Chain
- Cobb jumping bridle
- US Pony Book (D level)
- Grooming bucket with cleaning/grooming supplies
Contact Nick or Mashell at
Phone: 510-928-0023
Email: nshetterly@yahoo.com
7/17

---
Custom Saddlery Icon Flight Dressage Saddle. Beautiful black buffalo leather, super comfortable, med/wide width, generous 18" seat. Made in 2014. White piping along the seat. Pattened leather on the cantle with rhinestones, and the stirrup leather keepers have the rhinestone detail also. Always kept covered, excellent condition. Asking $3,000
Email: kpluvsjp@gmail.com
11/18
---
Lightly used Tucker trail saddle. Owned three years, used maybe 25 times. A lot of life left in this saddle. Paid $1800, will sell for $1300. Located in Chatsworth, CA. Will ship, buyer pays shipping charges. Email: justshira@att.net or call/text 818-400-3920.
10/23
---
County Stabilizer XTR 17W, spring tree, skid row panels. Like new condition. Comes with M. Toulouse lined leathers and standard irons. Asking $3000. Also have a 48" M. Toulouse anatomic girth, Mattes correction half pad with shims, and snaffle bridle. Could sell all as a package deal. Phone: 717-752-6612
Email: tallyho26@yahoo.com
10/23
---
1940s Walt Goldsmith Saddle 15" seat with spectacular tooling and silver nameplate on the seat "JIM" . This saddle is from the 40's and shows wear consistent with use. It is good shape for its age. This is a Rare offering of one of the Master Saddle Makers of the Golden Era of California saddle makers"
$1000.00 Text or Call Maria - San Pedro CA 90732
10/4
---
County Stabilizer XTR 17W, spring tree, skid row panels. Like new condition. Comes with M. Toulouse lined leathers and standard irons. Also have a 48" M. Toulouse anatomic girth girth, Mattes correction half pad with shims, and snaffle bridle. Could sell all as a package deal. Call or email for pictures/details. Emily 717-752-6612 or tallyho26@yahoo.com
9/8
---
I have a Martin FX3 barrel saddle for sale.
Had it for 1 year and I put less than 20 rides on it. It is a 15 inch seat with a 9 inch gullet width. Round skirt. Black seat with dark brown leather. Beautiful condition. If you are interested in price and pictures please contact me. Thank you
Andrea 951-534-1681
8/17
---
Brand new Prestige Italy dressage saddle. It's a 2013, 16" , with a long flap $4000 firm. email tania24k@gmail.com. Or call 818-818-7552
Serious buyers only!
7/6
---
---