---
Unreg.Tenneessee Walking Horse gelding for sale. Beautiful, black, extra smooth, 15.1 hh. Tennessee Walking Horse, Nevar is 10/11 years old and is a friendly and easy to like horse. He has been camping, trailers, clips, ties all day, and has good manners. Nevar was started Professionally and is currently getting a tune up and is ready for trails or ?? This is one nice and extra smooth running walking horse. Will walk slow with a slower group and will move out when asked. He is probably more for a intermediate rider, good in groups, and good alone. Stands for mounting and dismounting, neck reins, side passes, does lots of obtacles, and is willing and kind.He is current on teeth and sheath cleaning, feet, shots, and worming. Asking $4,500 for this nice guy.
Visit http://gaitedhorsesrus.com/sales.htm
11/18
---
Registered Tennessee Walking Horse for sale. This big handsome Bay gelding is also know as Stretch. He is 16.3 + and has miles of trail under his feet and wants to do more. He's sure footed, fun, and smooth to ride. Neck reins or direct reins. Never been shown, and has a excellent health history. Owned for the last 7 years by a avid trail rider who just isn't able to ride like he use to. He will drop his head for you to put a bridle on and stands for mounting and dismounting. Stretch is friendly, easy to ride and handle, no issues, trailers well and goes alone or in groups .. Just a nice horse with a good attitude .. and he has good manners! Asking $4,500 for this nice guy.
Visit http://gaitedhorsesrus.com/sales.htm
11/18
---
TB Mare for sale, 9 years old, 16.1 Exceptional breeding: Sire side-3rd generation Seattle Slew, Dam side-4th generation Secretariat. Maya is jumping now with a trainer, but she is kind and willing so she could be great at anything. Good manners, easy in a trailer, sound and athletic. Needs an experienced rider who has time to give her lots of attention. Asking only $10,000 most important to be a good home.
Phone: 310 804-8423
Email: katie.bentzen@thepartnerstrust.com
10/24
---
All Quarter horse bred APHA registered gelding. We call him a blue roan...
This is a very nice easy to get along with gelding, no vices, no bad habits, good manners. Stands like rock for getting on and off, at 14.3 hands, his size makes him easy to mount and his manners make it easy to mount from anywhere. He comfortable, goes out alone and in groups, does water, rocks and mountains, or hills and dales. Good with traffic, bikes, people, dogs, etc. Sure footed, sweet and friendly. He has a nice walk and side passes, helps with gates, and neckreins as well. Colbalt is good for anyone, rides with a Snaffle or easy curb, just not complicated. Trailers, ties all day, doesn't get impatient and is also use to going to new places to meet up with others and go for a ride in a new group or with old friends.
Visit http://gaitedhorsesrus.com/sales.htm
10/24
---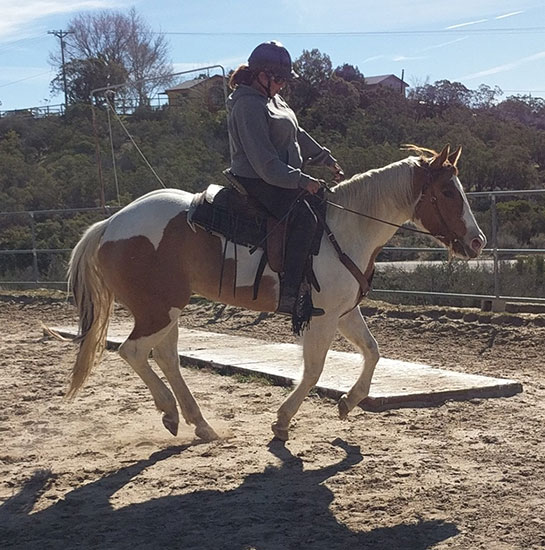 Dunnin Up A Storm - Registered APHA Paint Mare for sale
Stormy turned 5 this year and stands 15.hh. She has always been well taken care of and is one of the calmest and best minded horses I've had the pleasure of working with.
She has been going under saddle for about a year and half and loves the trails. She is proving herself to be a competent and easy going, sure footed trail horse. Good ground manners and under saddle manners. To date has not bucked, reared, spun or even acted like she wanted to. Not spooky, rides out alone and does great in groups. You can ride her bare back with halter or with bit and all dressed up. She really is a nice mare and just makes a pretty package. Good for all levels of riders. you can up your level to ride her and ask her for more, and or just pick your way down the trail, tough or rough or rocky, or dirt roads and enjoy your ride. You can ride her in groups or alone and get a fun and nice safe ride. She also works in the arena well. current on shots, Feet and teeth. Asking $6,500 for this nice non marish mare.
Visit http://gaitedhorsesrus.com/sales.htm
10/4
---
2008 16 hand AQHA Gelding. Rex is a Showmanship and Western Pleasure machine.
He is started in Trail and Horsemanship and ready to show in the All Around events. Rex is the sweetest gelding, with loads of talent. A quiet and gentle giant. Call Cheryl Busick @ 925-683-7208 or Jodie @ 510-506-3240

https://www.youtube.com/watchv=zykO6Cn_df8&feature=youtu.be
8/17
---
2003 Canadian Warmblood Gelding, 16.1 Hands, Grey. Very kind Children/AA Hunter that has excelled with his current rider in the OCIEL league since 2016. He is a good mover and lovely to look at. Owner is off to college and must sell.
Phone: 949 230 0902
Email: rachel.miller@cox.net
11/17
---
Quarter Horse in many movies, not spooky, has been ridden by all ages in arena. Easy keeper, no shoes, eats well. 15 hands, approx. 20 years. Phone: 661 618 3826
Email: jjks@juno.com
8/17
---
OHK Krymsun Gold
16 hand 2007 Gelding out of One Hot Krymsun. A great all-around th who excels in H.U.S, eq & horsemanship. He left with overall champ in every western class at 2017 western IEL. He is super smooth and currently is ridden and shown by youths. located in San Juan Capistrano Ca contact KB Performance Horses at 949 292-6599
$8,000.00 Firm
8/17
---
---