---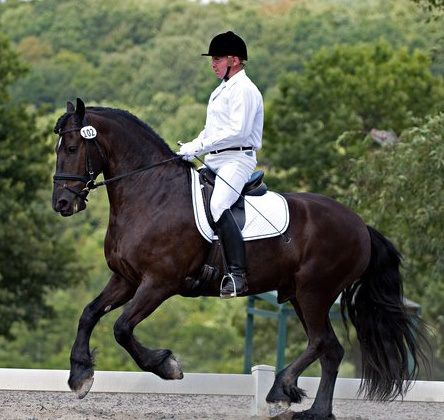 Position Wanted: Assistant to Head Trainer
Long term/fulltime
Many years experience, also years as a sole proprietor.
I am looking to be involved in the daily routine of a Training/Lesson/Show facility.
Feeding, grooming, tacking/untacking,bathing, clipping, lunging, longlining, teaching, riding, etc., or anything that needs to be done, to keep things running smoothly. Willing to help with barn chores as a team player.
Enjoy teaching beginners to intermediate, and all ages, as well as coaching at shows.
Can drive truck and trailer, IM and IV injections, good at noticing colic, lameness, etc. Comfortable taking sole charge in the owners absence.
Please contact at taydressage@yahoo.com. References, and resume available. Prefer live on site for myself, husband, and 3 small dogs, or if there are reasonably priced rentals within a reasonable commute. Currently in Palm Springs, but Looking for anywhere in California.
6/12
---
My name is Chelsea Matthews. I am an experienced horseback rider, and have worked with horses throughout my life. My dad was a professional steer roper, so I was nine months the first time he sat me on a horse. I am experienced in all kinds of riding, horsemanship, and breeds. I am also quick to learn. When I am with horses I feel right at home. I would love to be a part of your team in any way. Email: Chelsea.chexmix@gmail.com
6/18
---
I am an equine assisted facilitator (certified Equine Guided Educator Level 1) and equine specialist (worked for local EAGALA based non-profit.) in LA. I am seeking a part time position in an equine assisted program where my knowledge would be of service and in return, I might gain invaluable experience. Prior to my therapeutic equine work, I was a competitive equestrian for nearly 30 years
Phone: 818 813 2600
Email: victoriableeden@yahoo.com
6/11
---
30+ yrs.exp. ISO: Assistant position in a dressage/western dressage facility. OR: a facility that specializes in PtHA, APHA, ApHC or AQHA.
Looking to assist with daily routine of a training/show facility.
More info, references, and resume available.
Live on site for myself, husband, 3 small dogs, would be preferred. Or, reasonably priced rentals in the area
Contact: taydressage@yahoo.com
6/4
---
Seeking part-time ranch work in north OC. Horse girl with 12+ years of experience and horse ownership. I'm available to do stall cleaning, feeding, turn outs, barn chores. I can do it all. My availability is very flexible. I also have excellent references. Please call or text 714 873 7279.
5/25
---
Looking for living arrangements in exchange for work/riding/exercising/etc. Single woman, 1 cat, 1 dog and 2 Peruvian horses. Open to all areas! Phone: 951-368-8717 or email: tammywinchell@gmail.com
5/21
---
l'm looking for a working student position. Have been riding for the best 13 years, mainly hunter/jumpers. I do have some experience with western and dressage. Have my own horse. Willing to clean take, lunge, clip, wrap, etc. I'm looking to stay within the Calabasas and valley area. Please email lyon22t@mtholyoke.edu
5/15
---
Executive Home Services
Estate Care and Management
Knowledge and International Expertise!
Multi lingual German, English, Spanish, Bulgarian, Afrikaans
Equestrian Expertise
High Level Fitness and Nutrition
Pet Walking/Sitting
Contact us:
Christina and Patrick +1 949-322-3992
ccody007@gmail.com
4/25
---
Seeking live out / live in PT / FT. Negotiable on situation and FT or PT. Barn: English /eventing position Female: with horse experienced. 10 plus years grooming, mucking, basic teaching , riding, etc... odd jobs, cleaning, dog bathing /grooming
Caring, reliable and honest. Easily passes a background check Prefers: Professional or small family style barn.
Phone: 818 205 6525
4/25
---
I am looking for a working student or groom (assistant) position. I have some dressage and Western experience so I am open to any style, but prefer dressage to learn more and show in it. I am able to commit for 1-3 years and do not need live-in space. I am extremely hard working and very coachable and can give great references from the barn I volunteer at. Please contact me!
Phone: 757-752-3602
Email: bmoke001@odu.edu
3/29
---
Hi my name is Carlos and I am looking for a full and/or part time position. I've Been blessed to work around Stallions, Mares , and even Baby horses. 10+ years of experience working with Jumpers/Hunters/Dressage and western horses. Count on a responsible and caring worker that most importantly cares for the well being of your horse and keeping my workspace clean and organized. Contact @ anytime!
Phone: 760-402-0125
Email: Carloshrdz2010@gmail.com
3/29
---
Living in Oceanside and looking for part-time job as a rider, assistant, or beginning instructor. Available weekday afternoons and weekends. I have eight years of riding experience; most recently worked for a Grand Prix rider for whom I rode 15-20 horses a week, varying in age/training level. I have also helped run day camps so I have experience working with kids. Email:. stklife@gmail.com or Phone : 206-535-9466
3/27

---
Dressage groom available for full- or part-time, elite and professional horse care. Willing to travel domestic and international, located in San Diego, Ca. References available. Contact Chantal Didricksen, 858-257-8240 call/text or email piaffe33@hotmail.com
3/27
---
I am seeking part - time employment as an office worker, assistant, or rider at a barn. I have over 20 years experience working with all different types of horses from show horses to race horses from english to western. I am very good at breaking babies and instructing as well. Please contact me with more questions. Email: chitowngirl1125@gmail.com
Erin
3/27
---
Experienced horse girl seeking ranch work. I am available Monday-Saturday every week. Reliable, hard worker with experience working as a ranch hand and also a horse owner for 12 years. I am available to feed, clean stalls, fill waters, feed supplements, and turn out/exercise. I am located in BREA (92821) I can be reached at (714) 873-7279 I have plenty of great references.
3/27
---
---
---
You Can Post a FREE Classified Ad Here!
We Accept: